Baccarat is a casino table game featured by every online casino. It's the traditional game of aristocrats and, of course, James Bond 007.  If you want to be "shaken but not stirred" read on to find out how to play Baccarat and basic Baccarat Strategy.
Baccarat is often referred to as Punto Banco and when playing in a casino either name may be used although Baccarat is the most common.
It is a straight-forward card game where a player goes up against a dealer, but players don't directly bet whether or not their own hand is the one that's going to win which makes it unique. In Baccarat, players bet whether they think a player will have the stronger hand or if the dealer will have the stronger hand. Typically baccarat is played with a six or eight deck shoe, and these same structures also apply with online casinos.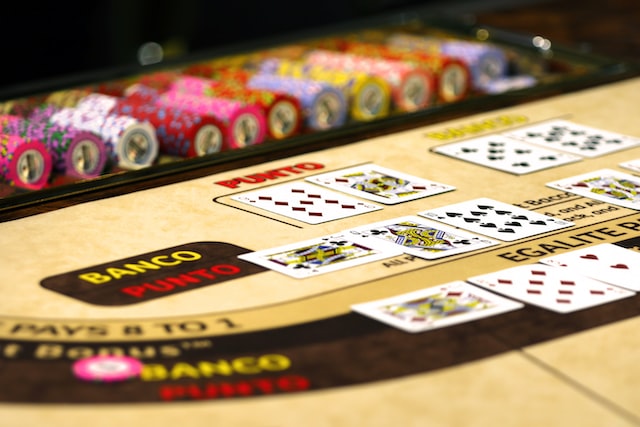 How to Play Baccarat
With online baccarat, players can choose to bet on Banco, which means they're betting that the dealer or the bank will win; or they can choose to bet on Punta, which means betting that a player will win. With all baccarat tables online, there is likely to be a minimum and maximum bet set so players should choose those that fit their bankroll. The most common bet to make is to bet on Banco. Once bets have been placed players and the banker are dealt their first two cards each by the dealer.
Whether or not a third card is dealt depends upon what hands have been dealt. If any hands total 8 or 9 for what's called a natural, no cards are dealt to the dealer or the player. There are very specific rules that determine whether a third card is dealt in baccarat, but players do not need to worry about learning these rules as if a third card is warranted, it will automatically be dealt by an online casino. Once the game stops with two or three cards, hands are compared to see whether the player or the banker had the better hand.
Cards are valued differently in baccarat then with most card games. Face cards and 10's do not have a value, they count as zero. All other cards are counted at face value, but only single digits count to value the game. So, if a player has a hand totalling 11, then the first number is dropped and it has a point value of one. The idea is to get as close as possible to 9.
Baccarat Strategy
With baccarat there really aren't any major strategies that really give players an advantage. Because only one bet is placed and there is no control over the cards, players simply need to make informed bets. More players bet on Banco because statistics show that often the bank wins more often but the odds are the same.  The casino makes its money or edge with a tie.  This is another strategy tip for players – in baccarat the tie bet has the biggest odds for a payout, but also the worst odds for players hitting it.  Therefore the tie bet is best avoided.