Casino Stud Poker is the same game as Caribbean Stud Poker so the names are used interchangeably in many cases though each name is used more commonly in different areas of the world. The game is not one that players would typically associate with poker, though it does use the hand rankings that are typical of the game. In this game, betting levels are fixed and players hands are compared directly against the dealer in order to determine who wins. Strategy is based on choosing when to bet and when to fold, and the reason it's not directly considered poker by all players because of the fact that there is no opportunity to discard or get new cards while playing, making it less a game of strategy than typical casino poker games.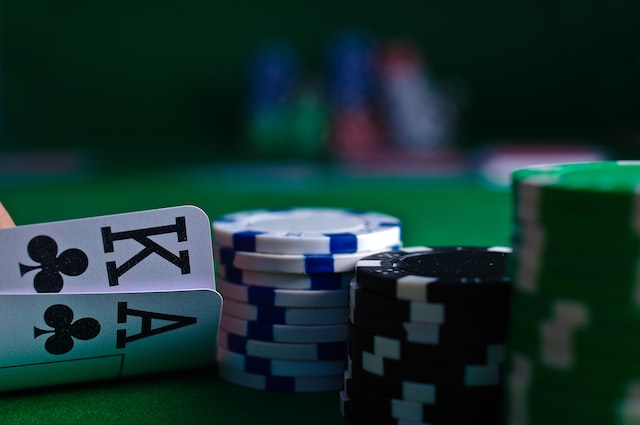 How to Play Casino Stud Poker
When playing Casino Stud Poker at an online casino, players first need to register and fund their account if they plan on playing for real money. Once they have done that, bets can be placed by purchasing chips or selecting how much they would like to apply for each bet in the game depending upon each casino's specific betting format. All online casinos are likely to set both minimum and maximum table bets. Before receiving cards, players must make their ante bet. After bets are placed, each player receives 5 cards including the dealer. All of the cards are placed face down with the exception of the last card for the dealer.
Once all cards are dealt, players have the option to determine whether they're going to play their hand or not. To be able to play, players must determine whether or not they would like to raise, betting exactly twice their original ante bet. Those that don't want to play their hand lose the ante and don't move forward with the game. In Casino Stud Poker, the dealer must qualify in order to play their hand, meaning having a hand that contains at least an Ace, King and three other cards.
If the dealer doesn't qualify, players receive a 1:1 payout on the ante bet and the raise is returned. Cards are compared for players that are continuing against the dealer if qualified. Players in this game receive different payouts on a schedule based on the cards in their hand if they win against the dealer.
Casino Stud Strategy
In this game, the best strategies relate to knowing when to bet and understanding card rankings.
Since players do not have the option of discarding cards, betting is the main focus of all game strategies, however, even those are more limited since it's not possible for players to see the cards that the dealer holds. There are a few strategies that can guide players in their betting habits and they are based on the cards in their hands.
For example, it's always wise to raise with a pair or higher and players should fold if they have a hand that's less than the dealer's qualifying hand of Ace/King. This is the most basic strategy, but there are some specific conditions that help lower the house edge as well.
These include raising with hands A-K-Q or A-K-J because they're more likely to be the higher hand; raising if the dealer's faceup card is two through Queen and you have the same card in your hand; and if the dealer has deuce through five as the faceup card then there's a good chance you'll have the best A-K hand so you should definitely raise.